Hornet & Wasp Control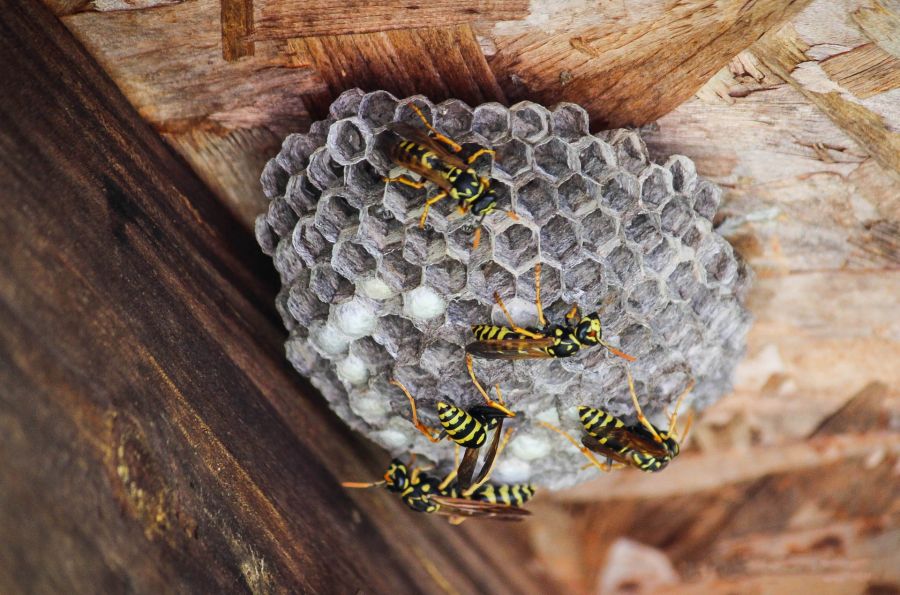 Hornets, Paper Wasps, and Yellow Jackets are predatory insects rather than pollinating ones. Which means they are NOT bees! Interestingly, the most painful "bee" sting is actually from a wasp. Wasps and hornets are critical to the control of other insect species. Predatory wasps prey on caterpillars, flies, and other small insects. Because they are so beneficial to the environment, Bug Out Pest Solutions, LLC attempts live removal and relocation when possible. If you have a hornet or wasp nest or control problem in your home or office, call Bug Out Pest Solutions, LLC to take care of it quickly. We've been in the insect control business since 2011.
---
Call for a FREE Quote
---
Wasp Control by Bug Out Pest Solutions, LLC
Wasps like to live in attics but will also build their nests in eave peeks, behind shutters, under deck railings, in gas grills, swing sets, mailboxes, and light fixtures. Their nests are small and can fit almost anywhere. Most wasps are carnivorous, feeding on insects, grubs, or spiders. They have biting mouthparts, and the females have stings to paralyze their prey. The sting can be used repeatedly. Social wasps build nests out of a coarse, papery material, which they make by chewing and grinding wood fibers. Paper wasps usually hang their nests from eaves, branches, or other shelters. When provoked, hornets and wasps can sting through protective clothing.
Bug Out Pest Solutions, LLC's Yellow Jackets Control
Yellow Jackets have black and yellow stripes. They like sweets and may buzz around you if you are holding a soda or candy. When they live outside, they build their nests in trees, shrubs, under decks, or high in eaves. Their nests are visible and easily identifiable by their football shape. They make their nests by chewing on tiny slivers of wood to create a thin grayish paper. However, when they live inside, their nest is not visible at all. You may see Yellow Jackets flying in and out of your house through a small gap, crack, or crevice. If you have a yellow jacket population inside of your house, you can hear them inside your walls or ceiling. It will sound like a rustling sound as they munch on your drywall or plaster to build their nests.
Why Choose Bug Out Pest Solutions, LLC for Hornet & Wasp Control?
Bug Out Pest Solutions, LLC is knowledgeable in hornet and wasp behavior and habitat.
Call (908) 481-4921 for hornet and wasp control for your home or office.
Our workers will safely remove the nest and will extract the hornets or wasps from your home.
We've been in the pest control business for 12 years.
---
Call for Fast FREE Quote
Dial Area Code first please.
---